Edna A Castillo – Founder and CEO of RealityDreams
®

Life Coaching LLC.
Edna is a transformational wellness and healing coach whose journey with breast cancer fueled a passion to serve busy women whose roles lead them to feel empty, exhausted, sick, unfulfilled, and wondering "Is that all there is to life?" In her cancer journey, she discovered women live up to the responsibilities, expectations, and demands of serving others without paying attention to themselves. All along their small voice within is asking them to honor their dreams, their purpose, their life. When ignored their unlived life reveals itself in frustration, illness, anxiety, limitation, monotony, despair, and failure.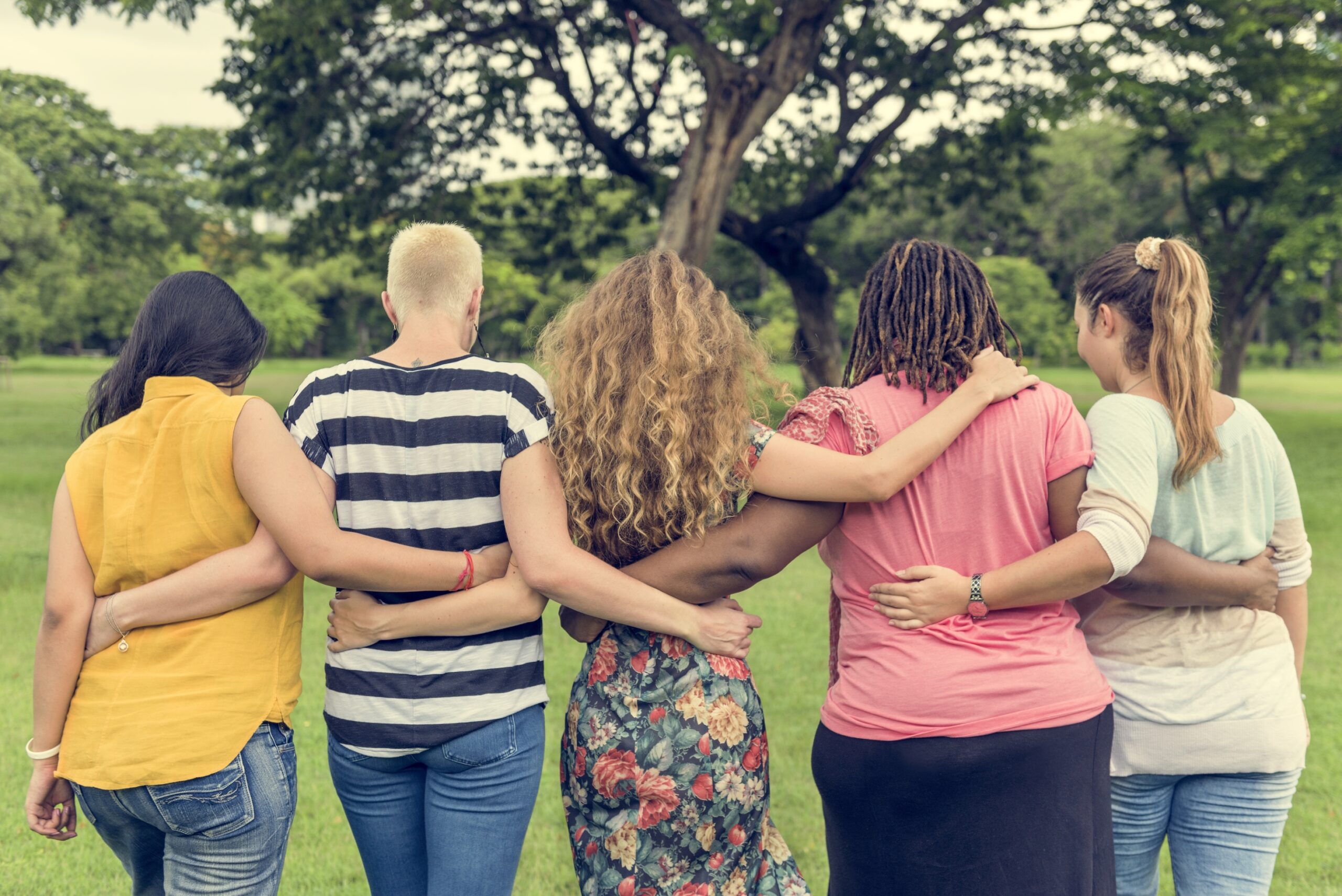 Edna loves to help women before life-circumstances (diagnosis, divorce, bankruptcy, job-loss, etc.) manifest in their lives, yet understands these life's signals are a wake-up call that leads women to recognize there is a better life to be realized.
Wherever in your life's journey you find yourself, we have the tools to empower you navigate life in discovery of your own Becoming and Emerging Life.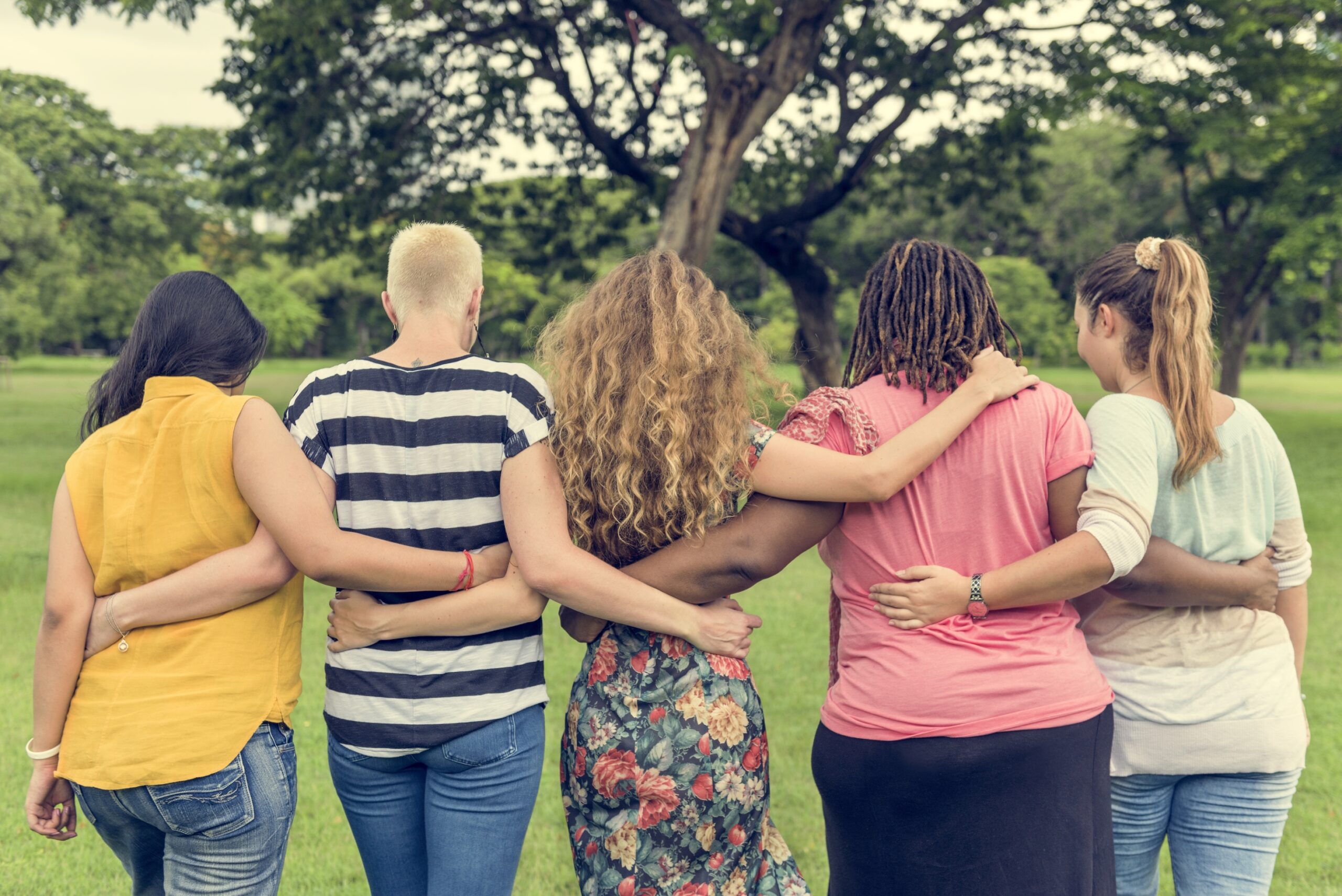 In our toughest moments is where seeds of greatness
are birthed to create richer, fuller lives.
– Edna A Castillo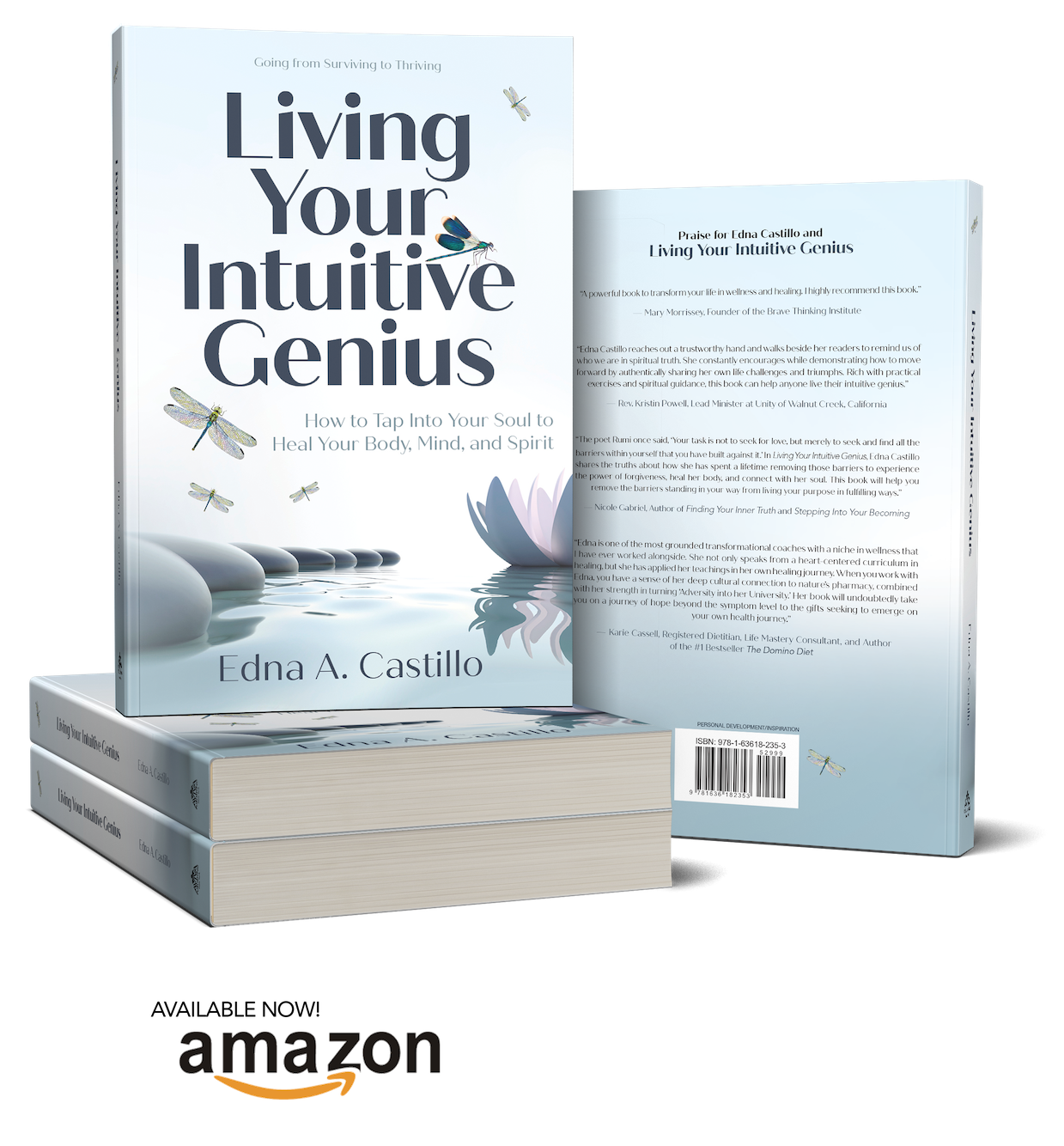 Edna's belief that greatness is born from our toughest moments led her to author the book, Living Your Intuitive Genius; How to Tap into Your Soul and Heal Your Mind, Body, and Spirit. Witnessing how her divorce, financial difficulties, single motherhood, and battling a breast cancer journey as the catalyst for her own growth, she understands how overwhelming life can seem, yet it is how you face a situation that dictates the outcome. While anyone would call a cancer journey their most challenging time, Edna calls it her experiment. In that journey, she applied the Spiritual Laws she teaches, and lived the most spiritual time of her life. She considers herself a Cancer Thriver. In her coaching practice, she teaches others how to gracefully journey with illness, or any condition, situation, or circumstance, create wellness and healing in their lives, and live into their dreams.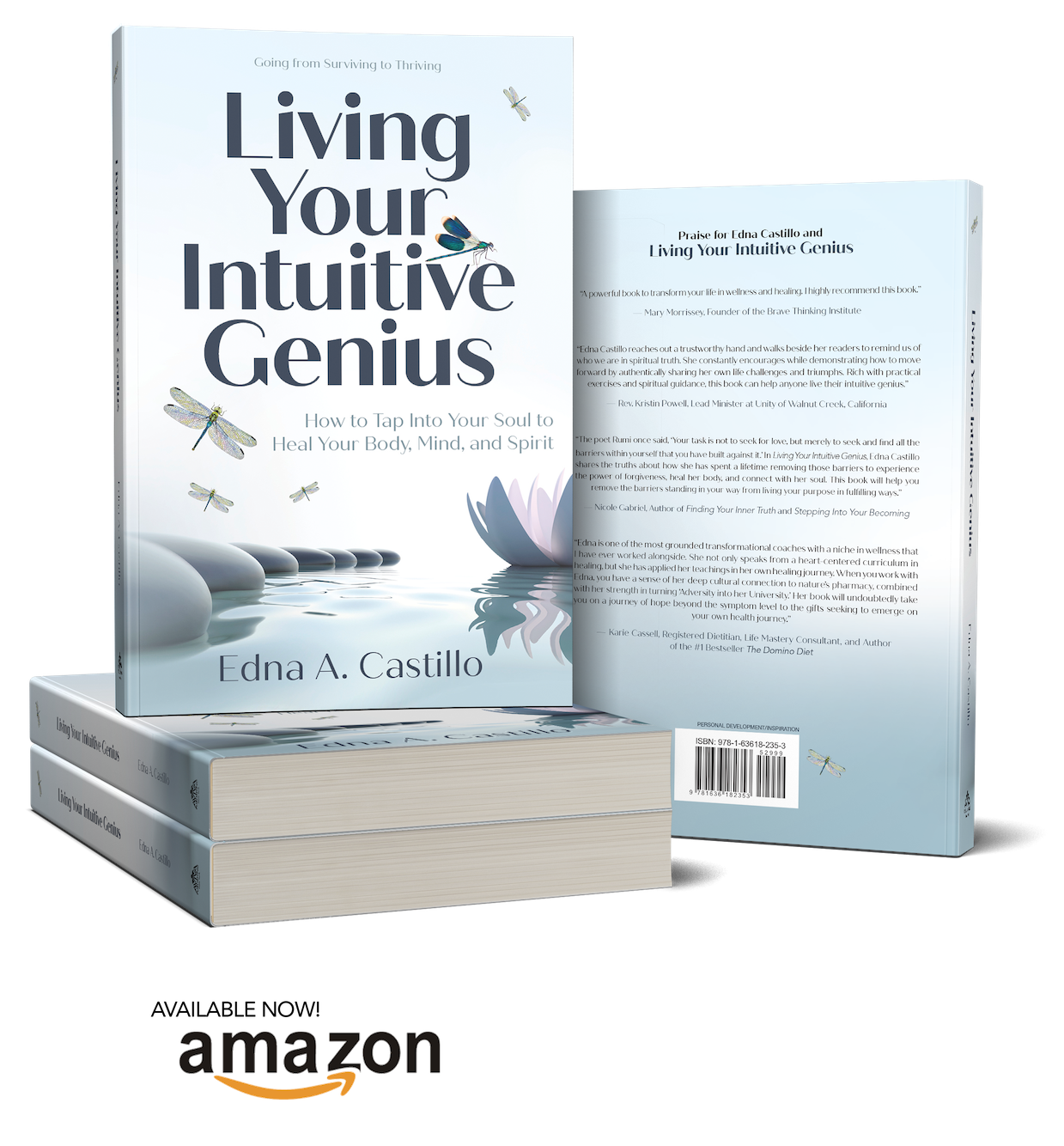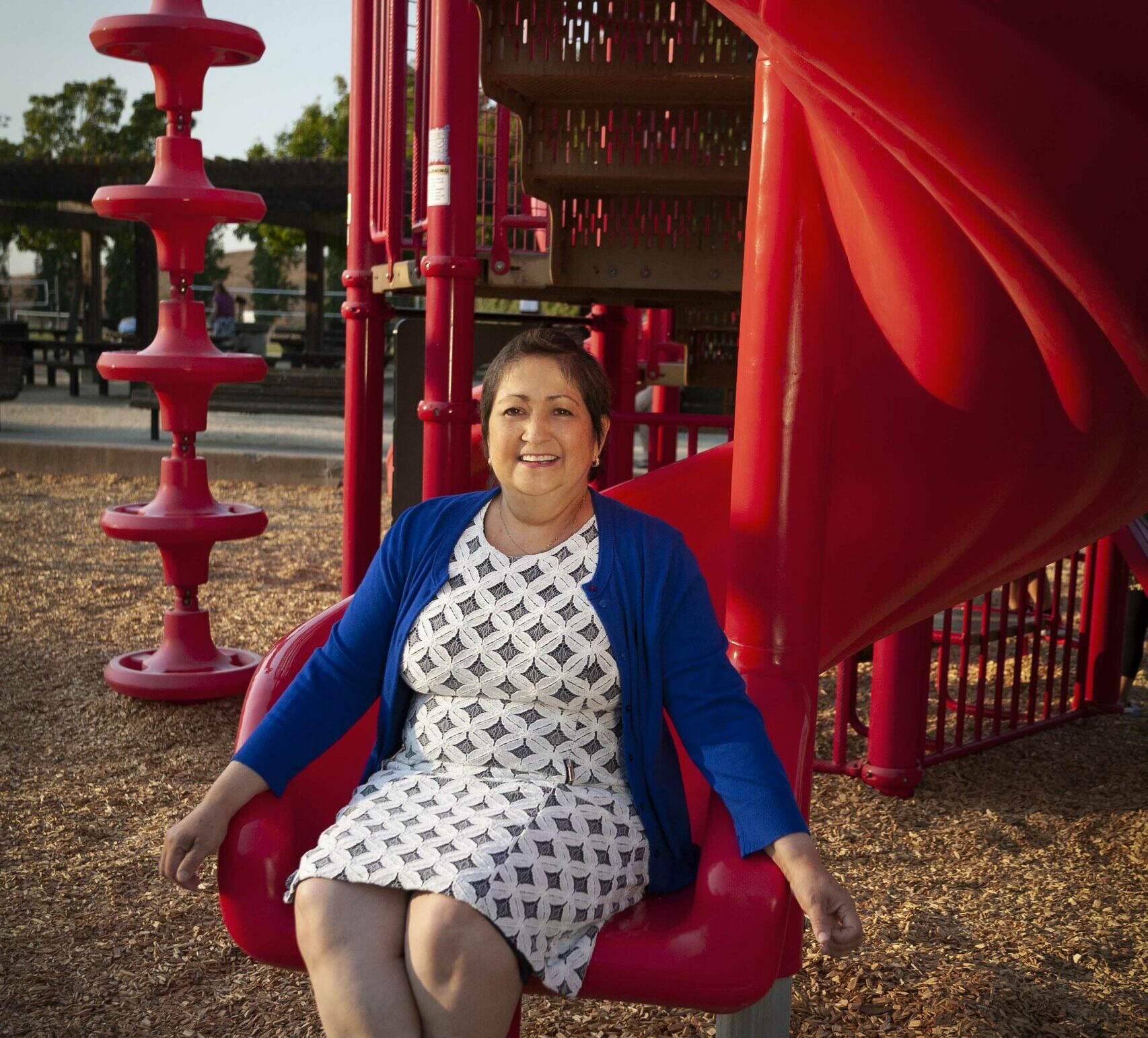 Edna received her undergraduate degree in Business, had a successful career in financial services for thirty years, then questioned her life's purpose and followed her inner voice to discover her calling, life coaching. As the founder and CEO of Living RealityDreams®, her purpose is to inspire women to live into their power. She knows that if it was possible for her, it is possible for you.
She lives a rich bi-cultural experience, having been born in Guatemala and moving to San Francisco, CA at the age of ten. She lives in the San Francisco Bay Area with her husband, loves to cook for family and friends; walk and play with her two dogs, and delights in quiet time in the redwoods near the coast- where she communes with nature and welcomes innovative ideas, dreams, and inspiration.
Mission
Inspire our community to live from their intuitive genius and connect with Spirit; empower our clients to heal their body, mind, and spirit, and live a life they love and thrive.
Vision
Every dream becomes a reality and every person flourishes in their RealityDreams.
WE BELIEVE IN OUTSTANDING SERVICE.
We love our clients; they are our top priority. We bring love, listening, care, and gratitude to every interaction. We love to over-deliver and give more in-use value than we receive in cash value. We love to serve through our programs, innovation and inspired wisdom.
WE HONOR THE POWER WITHIN.
We recognize the power within each person is greater than any circumstance. We embrace and empower each other and our clients to live into that power as we navigate our human journey. We lean on the power within to calibrate our energy and perform our best.
WE LIVE WITH INTEGRITY.
We live with integrity and endeavor to deliver what we promise to our clients and each other. We communicate with love and care, and act responsibly when we miss the mark and work to resolve things quickly.
WE BELIEVE IN GROWTH.
We seek growth and opportunity as we co-create with Spirit. We listen and trust our intuitive genius as we set goals and grow into our dreams.
WE BELIEVE IN GRATITUDE.
We thrive in life with gratitude for all that is, and we exude gratitude in all our interactions and celebrate the work we get to do and endeavor to live into our core values each day.
WE BELIEVE IN GIVING BACK.
We love to surprise and delight each other and our clients by going above and beyond. We give back to causes that matter to us so we can empower others to live into their RealityDreams. Our very work in the world is a beautiful act of giving.